When there's a birth, they're there. When there's a death, they're there. When someone's been married 50 years or if a new supermarket is opened, they're there. A whole life long.
In this major on-location production of Fanfare, you meet the members of the music society in a small village that, despite everything and whatever happens, come together every Tuesday evening to rehearse. While chairperson Wieke throws herself into the preparations for the summer concert, euphonium player Rinse wonders if his bad eyesight will stop him playing. And for the majority of the members, the new conductor Jetske takes a bit of getting used to. But whatever happens and however strong the wind blows, the marching band always walks on.
Fanfare is a poetic and humorous story of the members of a marching band. About a diverse group of people looking for harmony in themselves and with each other, but hardly ever finding it. With a large cast and the artistic team behind successful productions such as Part-time Paradise and Under Water, Tryater is putting on a major on-location production against the backdrop of Easterlittens.
Good to know:
Ticket sales start 1 December 2023
Price: € 29.50 (regular), € 24.50 (Friends of Tryater), € 17.50 (under 25s)
Parking is situated at the Baerderdyk (around 400m from the location)
Fanfare is suitable for audiences aged 12 and over
Both Frisian and Dutch are spoken in Fanfare. Dutch subtitling is available (news ticker)
If the performance is cancelled due to bad weather, it may be rescheduled in the week of 25-29 June '24. Tickets are valid for the relevant rescheduled date.
Accessibility:
Fanfare has wheelchair access. Make sure you reserve a wheelchair place
For visitors with walking difficulties there is limited parking space next to the location
English subtitles available (Smart Glasses). Choose the 'ticket + smart glasses'
Subtitling for deaf/hard hearing (also sign language) available through Smart Glasses. Choose the 'ticket + smart glasses'
Audio description in Dutch (blind/visually impaired) available. Choose the 'ticket + audio descriptie'
If you have questions about accessibilty and/or you want more information, please contact Hilly Kronemeijer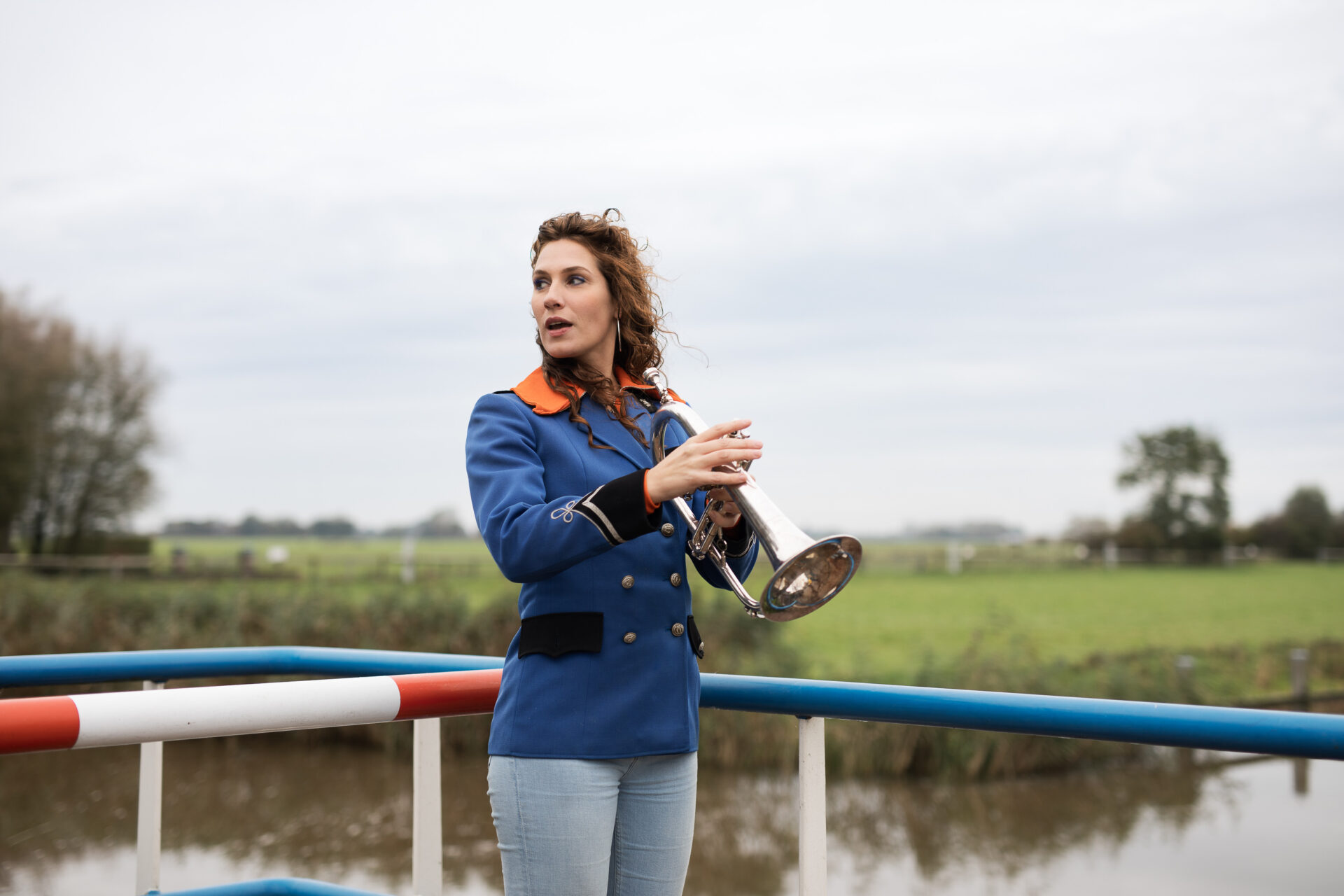 ---
Fanfare-trilogy
In these times of increasing individualism with people cutting down on their volunteer club life, the creators at Tryater visited more than thirty marching bands in Fryslân. What is it that brings them together each week to make music?
Director and artistic director Tatiana Pratley: "I think it's amazing to see how these people, with totally different backgrounds and ages, choose to come together each week to make music and get completely absorbed in something that is so much bigger than just themselves. While we were researching, we heard so many beautiful, touching and funny stories that we thought we could probably make a trilogy out of them. That's how the idea was born to develop a trilogy and spend a whole season looking at the dynamics of the marching band and the reasons people play in them. For us, the marching band represents something much bigger, namely the strength of the community and the importance of doing something of value together."
Members of Frisian marching bands play in all three productions, and each production can be seen independently of the others. Ynblaze (Warming up) is set during a band rehearsal and in Thúsblaze (Blowing home), set in Frisian living rooms, you meet a character from the final production. The major on-location production of Fanfare is an open-air play against the backdrop of Easterlittens.
---

The Fanfare-finale is part of the project phōnē, co-funded by the European Union. The project connects people who belong to a language minority across language and cultural borders. The theatre companies work for, with and on these language communities.